Description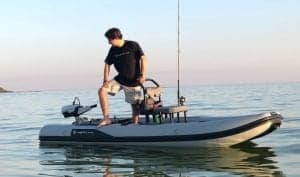 UNSINKABLE CONICAL TUBES
Our design is not only beautiful but one of the most functional on the market
The progressive thinning of the tubes near the bow makes the Neptvn Pro much more aerodynamic, allowing speeds exceeding 25mph using just a 6hp Outboard
The sponsons are divided into 3 air chambers: 2 for the stern and 1 for the bow. There is a 4th air chamber under the drop stitch floor.
You will feel super safe because NEPTVN PRO 400 is virtually unsinkable.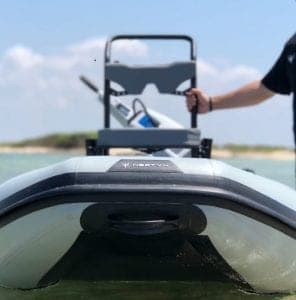 CATAMARAN HULL
This design divides oncoming rough waters into 3 parts: 2 outside the keel and 1 channeled through the middle of the hull
Less resistance equals smoother and faster rides.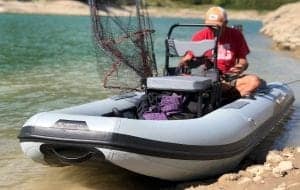 INNOVATIVE REINFORCEMENTS
Along the entire boat perimeter runs a super strong rubber reinforcement rub rail.
During any impact, the stress is discharged directly on this reinforcement without compromising the inflatable tubes. The Neptvn Logo badges are also made of extremely tough material.
The hull bottom is reinforced with a super strong and knurled rubber which not only protects the hull but allows for very precise direction changes while under power.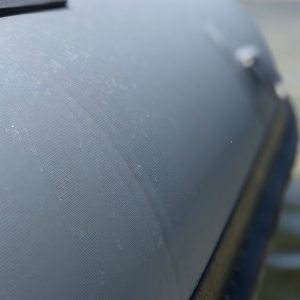 HULL PREMIUM MATERIAL
We selected the best materials to make NP400 the lightest, strongest and fastest boat possible.
We don't use the standard cheap PVC used for common inflatable boats, we use the MEHLER TEXNOLOGIES VALMEX® FABRIC 0.9mm 1100 dtex, made in Germany.
Several layers of PVC are combined with a Polyester base fabric of high strength, these layers give flexibility, elasticity, airtightness and resistance against mechanical damage. This means Your NEPTVN PRO 400 is resistant to abrasion, UV rays and weather. It is also dirt-repellent and insensitive to high temperature conditions.
Every PVC part of the NEPTVN PRO 400 are not simply glued but are HOT WELDED with a process that makes them structurally robust.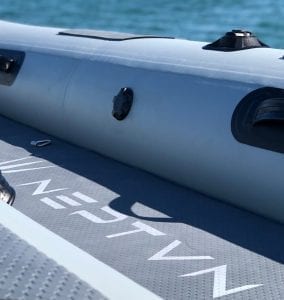 DROPSTITCH TECHNOLOGY
The NEPTVN PRO 400 floor is so rigid you won't believe it's an inflatable.
That's because we use a super high pressure 1000 D PVC drop stitch, with a max pressure of 17 psi.
This floor is insertable and removable from the hull in just seconds making for easy cleanup.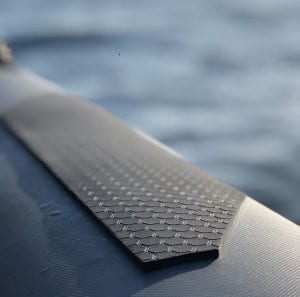 EVA PADS
Water repellent and no slip EVA pads, with a super cool beehive design makes the entire boat much safer and more comfortable.
4 pads on tubular: 2 pads near the leaning post, they are used for switch stern to bow safety or to sit if you choose to remove the structure;
2 pads on stern to better fix the casting structure or to have better grip if you want to put your feet on the tubes.
The drop stitch floor is completely covered by the EVA to make it stronger, harder and safer.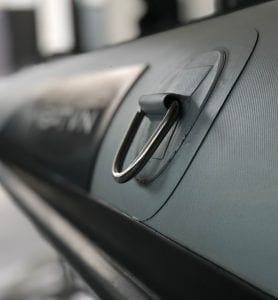 INOX D-RINGS
The NEPTVN PRO 400 hull has 14 external D-Rings
5 big D-rings on the tubes allow various spots for you to anchor the boat, 9 small D-rings on the drop stitch floor allow you to move the Leaning post and stern casting structure in a modular way.
Every D-ring is made of INOX steel which is known for its durability and long lifespan.