Description
Volt 180 | Electric Boats
The Canadian Electric VOLT 180 can accommodate up to 11 guests and will undoubtedly attract the attention it deserves. It is quiet, zero-emission, easy to handle, low maintenance and inexpensive to operate. A charge on 110V or 220V for a few cents is enough to enjoy 10 hours of navigation, hassle-free. All CEBC boats are equipped with a battery life indicator.
The Canadian Electric VOLT 180 offers several good awning options that not only protect you from the sun and rain, but can also be fitted with solar panels. Amazing storage space is available under decks and seats.
Go picnicking on the lake in good company with a bottle of wine, sit around the retractable table and relax! It's a fabulous new way to take your family and friends on the water. CEBC has managed to integrate the essence of elegance into a modern and efficient low-draft planning hull that meets stringent stability criteria.
This high-performance electric boat can be powered by an electric propulsion system from 10 hp up to 80 hp. The BMW I8 lithium battery offered is available from 5KWH up to 4O KWH.
PRICES START FROM $34,995 – EMAIL US TO INQUIRE
TECHNICAL SPECIFICATIONS
Maximum speed
11 km/h (7 mph)
or 48 km/h (30 mph)
Cruising speed
9.6 km/h (6 mph)
or 24 km/h (15 mph)
Capacity
11 Canada, 14 US
Dry Weight
720 kg (1600 pounds)
Hull Material
Fiberglass (Infusion Sandwich)
Overall Length
5.4 m (17'9")
Overall Width
2.13 m (7')
Draft
0.30 m (12")
Homologation
USA, Canada, Europe
Woodwork
Synthetic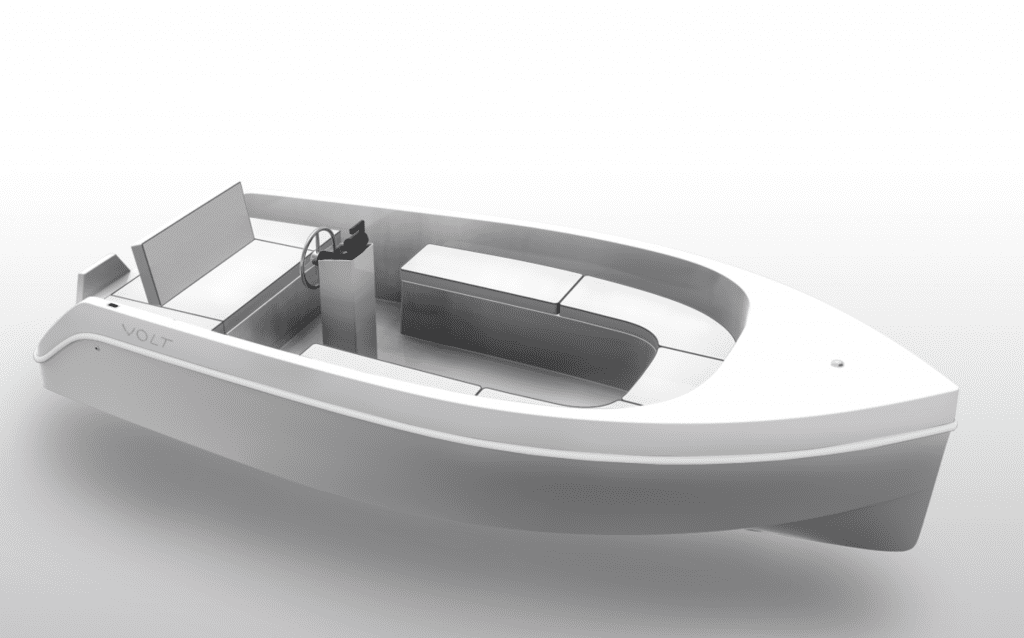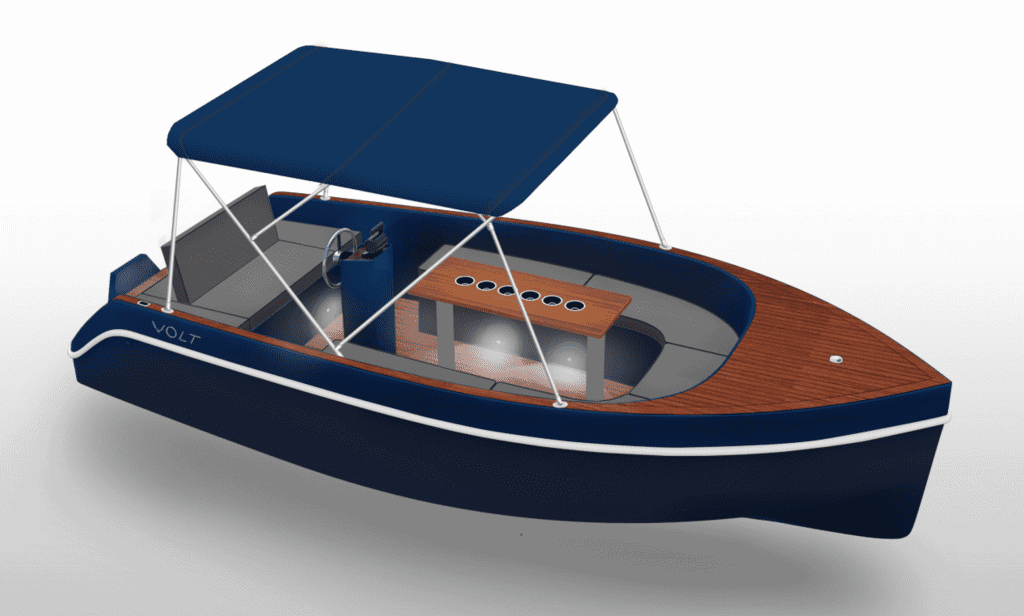 Electric motor types
Minn-Kota 2.0
| | |
| --- | --- |
| Engine Power | 5 HP |
| Motor Voltage | 48 V |
| Battery type | Lead/Lithium |
| Qty of Batterie | 1 – 8 |
Torqeedo 4.0
| | |
| --- | --- |
| Engine Power | 10 HP |
| Motor Voltage | 48 V |
| Battery type | Lead/Lithium |
| Qty of Batterie | 1 – 8 |
Torqeedo 10.0
| | |
| --- | --- |
| Engine Power | 25 HP |
| Motor Voltage | 48 V |
| Battery type | Lithium |
| Qty of Batterie | 1 – 8 |
Torqeedo Deep Blue
| | |
| --- | --- |
| Engine Power | 80 HP |
| Motor Voltage | 400 V |
| Battery type | Lithium |
| Qty of Batterie | 3 – 4 |